Get Involved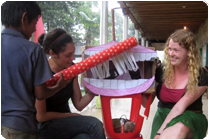 There are many ways to get involved and make a contribution to the community of La Florida. By visiting or volunteering in the community, you are making an impact on the lives of many but another way to support the community is through donation.
Whether you choose to help out by working on the finca, or by visiting and simply taking in the many tours and classes available, you will find that there is much to see and do. To get a real feel of the campesino life, visitors can also participate in the various projects and the collective work in the community if they wish. Help is always needed.
If you choose to make a financial contribution by donating, please know that even small amounts will help the people of La Florida move towards their vision!
Here's How